 PRODUCTS AVAILABLE ON-LINE

Model 535 Heavy gauge electrical terminal manual crimping tool

Crimps terminals in 6 and 8 gauge wire and in 1/0and 2/0 cable. The terminal is inserted in the tool, the wire/cable is inserted in the terminal. And the two bolts are tightened in the tool until the surfaces come together, and the terminal is automatically crimped to the proper depth.

Model 534 Precision Hacksaw Mitre Box

This tool can be bolted or clamped to a bench or used in a shop vise. Hardened steel dowel pins provide the alignment for a hand hacksaw and control the squareness of cuts to .004 inch per inch. The mitre box has multiple dowel pin settings for preset angle cuts of 12.5, 30, 45, and 60 degrees. It also has an integral clamping system which provides the ability to make fast set-ups for cutting rod and tubing up to 2 inches in diameter. In addition, the clamping bar was fabricated with a precision "V" to provide an alignment groove for making square cuts in round stock.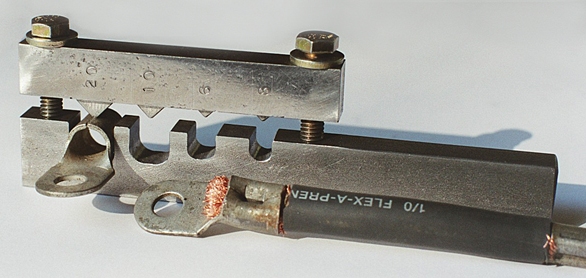 Click on the Picture for more Information

and to purchase via PayPal

Click on the Picture for more Information

and to purchase via PayPal